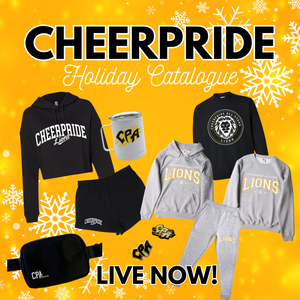 HOLIDAY CATALOGUE - ORDERS DUE DEC 1ST
The CPA holiday catalogue is live now! Check out the Roar Store to find some new CPA gear & accessories.

There is something for everyone!
Orders close December 1st.
At CheerPride All-Stars our mission is to teach our athletes valuable life skills and allow not only them, but their families the opportunity to form long lasting friendships.
Our passion for cheer can easily be seen and felt the moment you walk into our beautiful gym in south Barrie, ON. We have classes and teams available for all ages and abilities.
Call 705-722-6435 or email info@cheerprideallstars.com 
We will be happy to schedule you for a tour of our facilities and an evaluation with one of our professional coaches at your earliest convenience.  We're currently accepting new athletes, so there's no better time to start than now! 
Whether you're looking for a fun activity, or are interested in the competitive side of things, we have just what you're looking for! 
See you at the den!
Our Recreational Program is a perfect introduction to cheerleading!
🦁In our Recreational Cheerleading Classes, athletes will be introduced to basic cheerleading skills such as jumps, tumbling and stunting.

🦁 Recreational Classes run monthly from May to March with practices ranging from 1-1.5 hours once a week.

🦁 We offer our Kinder Cheer program for athletes ages 4-5 as well as our Recreational classes for athletes ages 6-12.

🦁These classes are the perfect cost effective way to see if this is the sport for your athlete and if they want something more....